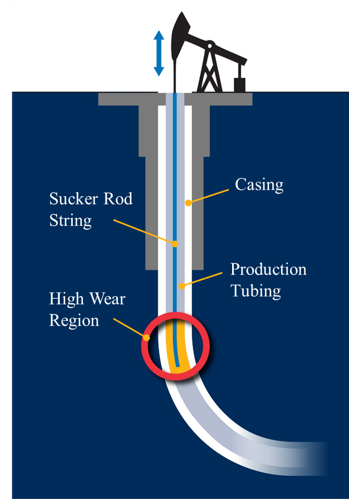 Q-Tough coated tubulars addresses the sliding wear problems in rod-driven wells which cause production tubing perforations and lead to a high frequency of tubewall failures and costly downtime and workovers.
Production tubing lasts longer when Q-Tough is applied at high-wear locations, eliminating resource intensive workovers, reducing costs, and increasing reliability.
World Class Wear Resistance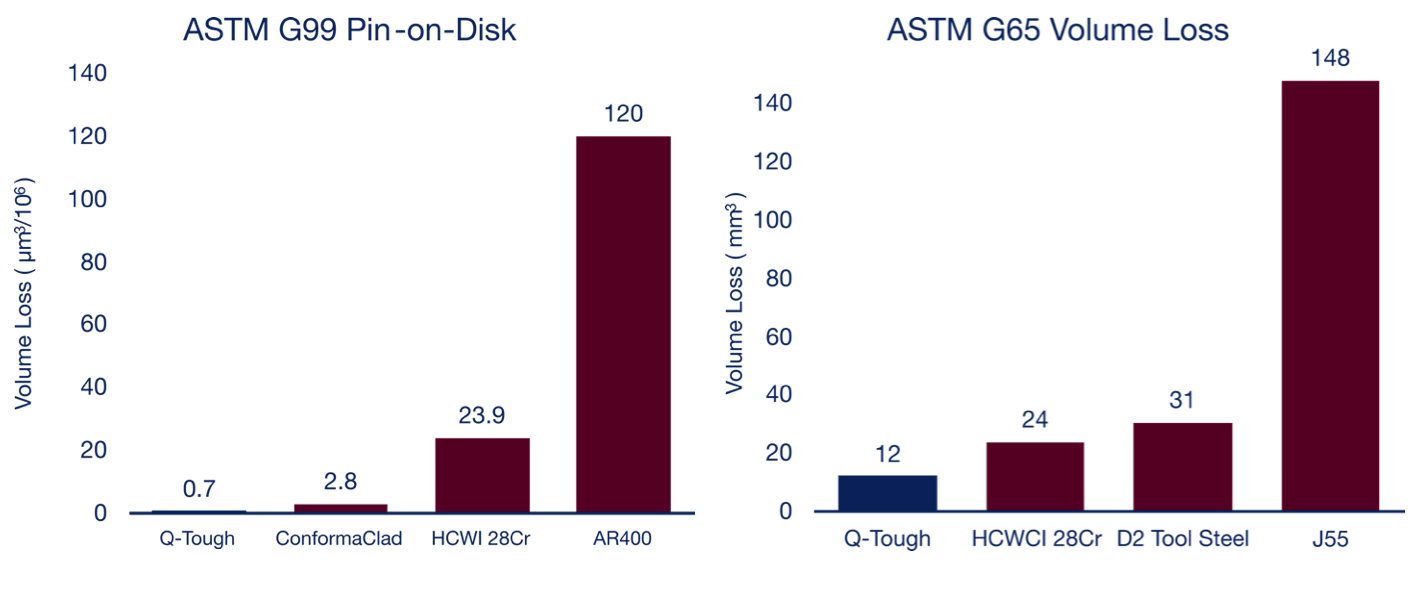 Q-Tough outperforms J55 carbon steel in ASTM G65 and G99 testing.
Comparable to Chromium Carbide overlays and white cast iron in slurry jet erosion tests, 93% of coating thickness remains after 500+ days in field service.
Proprietary Microstructure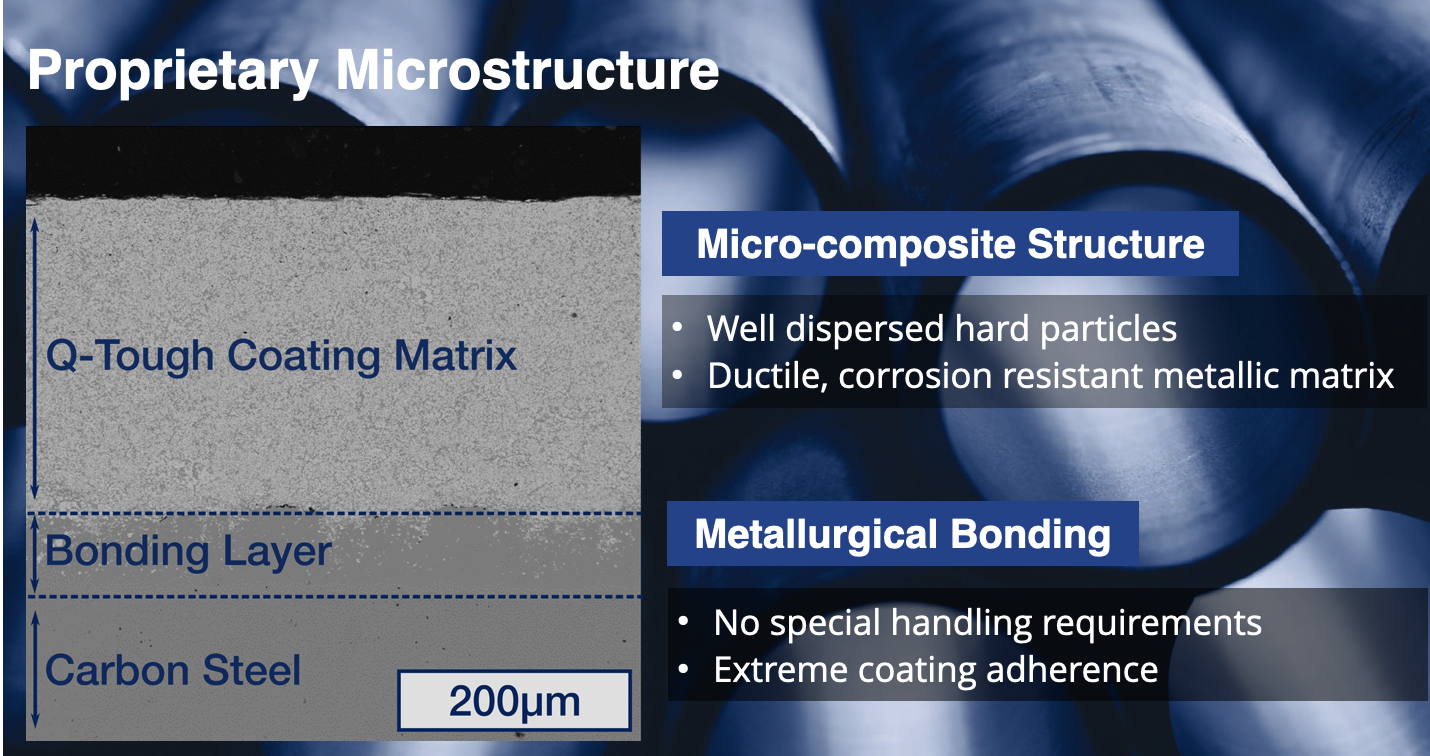 Product Specifications
Property

Details

Sliding Wear Resistance (ASTM G99)

>500X better compared to uncoated J55 carbon steel

Sand Abrasion Wear Resistance (ASTM G65)

15+X better compared to uncoated J55 carbon steel

Slurry Jet Erosion Resistance

Comparable to CrC overlays and white cast irons

Substrate Compatibility

Carbon and alloy steel, stainless steel, Ni-based alloys

Part Sizes and Geometries

Internal and External surfaces
Tubular and complex geometries
Lengths up to 15' long

Average Microhardness

~800 Hv (63 HRC)

Coating Thickness

50-1000 µm (0.002" -0.040")

Substrate-Coating Bond Strength

Excellent due to Metallurgical Bond

Coating Porosity

Minimal

Appearance

Smooth as coated finish
Coating applied as Light Grey
Finishes to a high metallic lustre when polished
Field Performance Data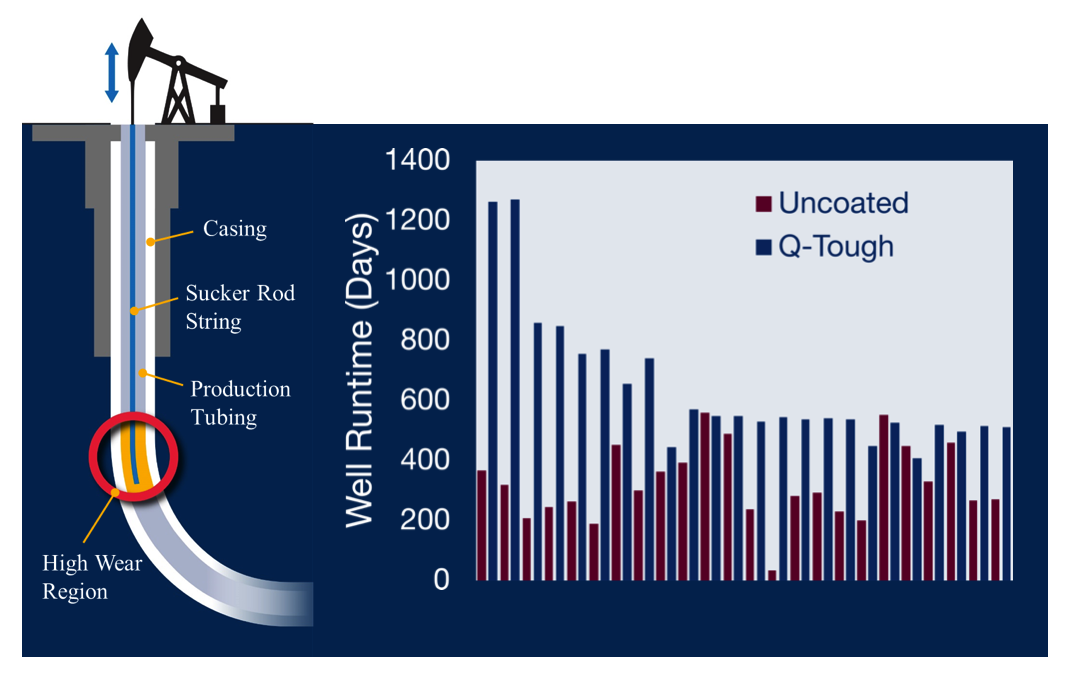 Field trials of Q-Tough coatings have been installed in 44 wells in the Bakken region of North Dakota.
In 4 years of operation, no coating related upsets or failures have occurred.
At 500 days of field service, only ~7% of coating consumed.
Q-Tough gives a 200% average increase in well runtime.