i-1300 HT and LT Family of INERT Coatings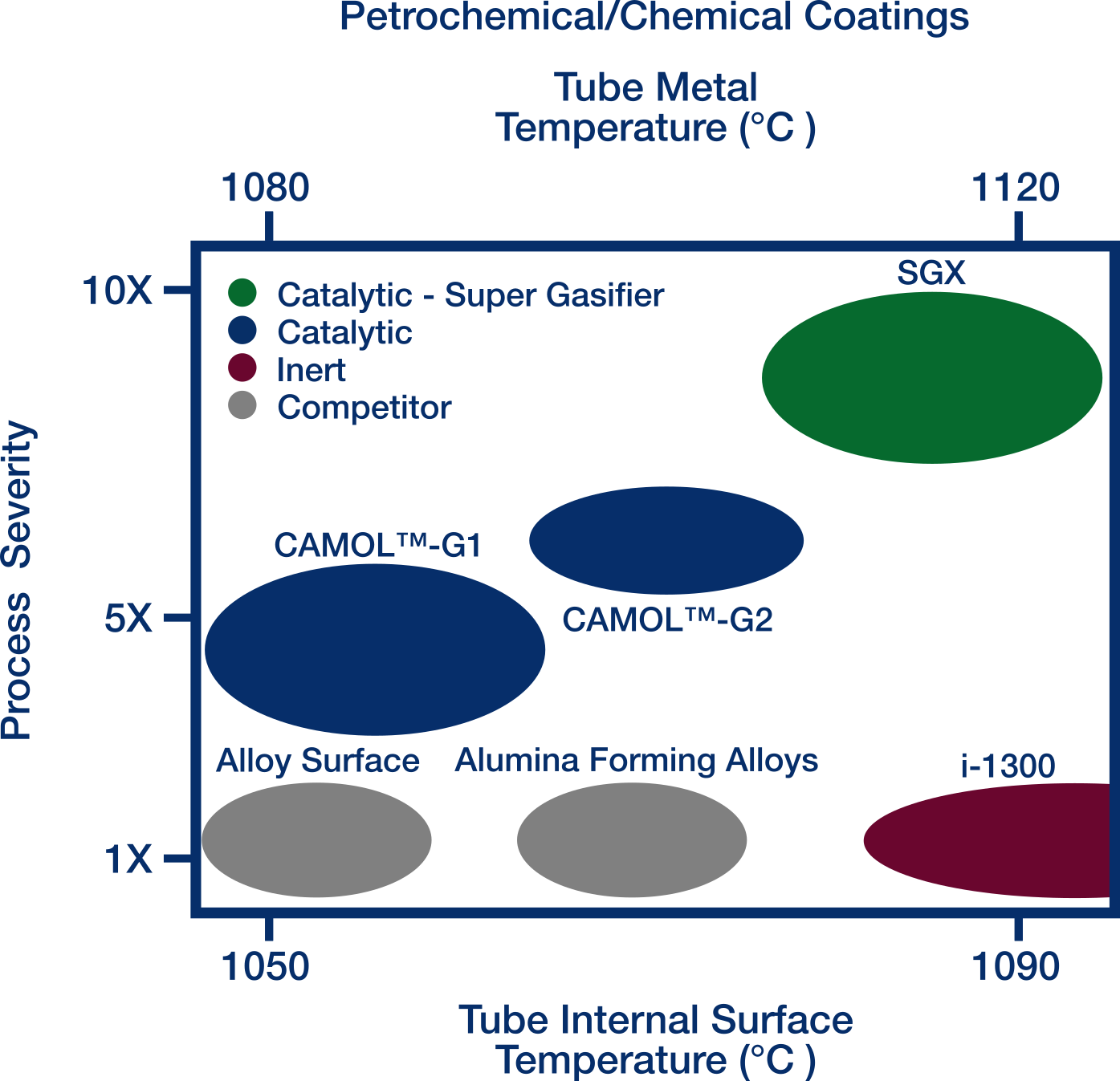 Highly inert to filamentous coke-make.
Substantial energy and emissions reductions.
Target high severity olefins production and refinery / upgrading operations.
i-1300 HT [Higher Severity]
Inert-1300 High Temperature coating.
World-first intrinsic inertness to filamentous coke-make.
Highest coating thermal stability achieved in sector to-date.
i-1300 LTpc [Medium Severity]
i-1300 Low Temperature Petrochemical coating.
Low-cost alumina-forming coating for olefins production.
Low oxide formation temperatures.
Converts Fe and Ni from base steel into highly thermally-stable inert phases.
i-1300 LTdc
i-1300 Low Temperature Delayed Coker coating.
Inert to surface based coke-make mechanisms.
Eliminates the formation of Fe-S-C coke layer.
Eliminates any filamentous coke-make.
Reduces feedstream "dropout" coke.
Piggable to a broad range of carbide appendages.
Engineered Properties

Surface and Coating Properties
Inert to surface filamentous coke make.
i-3000HT requires no surface oxide growth.
i-1300LTpc grows alumina surface at lower temperatures.
i-1300LTdc coating matrix is universally inert throughout entire coating matrix and piggable.
Degradation Resistance
Oxidation
Carburization
Sulfidation
Temperature Extremes/Upsets for (HT)
Piggable (i-1300 LTdc)
Key Mechanical Properties
CTE Matched
Ductile and Weldable
Multiple Industry Applications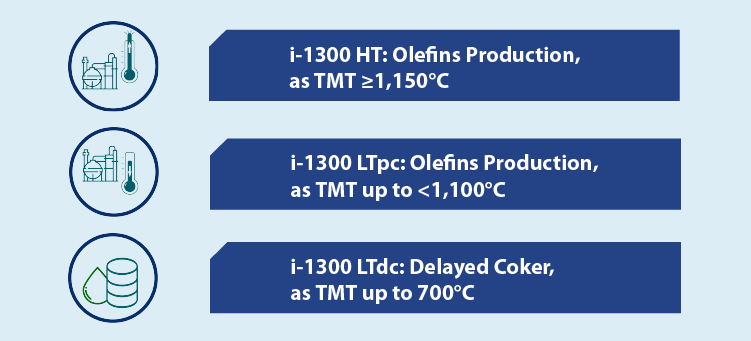 How It Works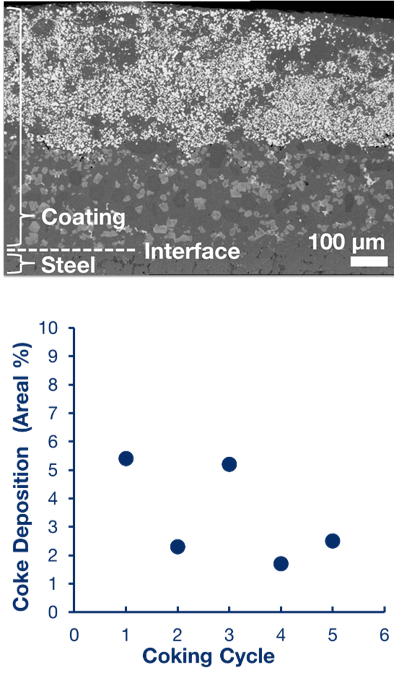 i-1300 HT
World-first INTRINSIC inertness (>95%) to filamentous coke-make in higher severity olefins production in the hottest part of the furnace coil without the need for the prior formation of a surface oxide barrier.
i-1300 LTpc
Low-cost inert alumina scale former for use in the cooler parts of olefins production furnace coils without any weldability challenges.
i-1300 LTdc
Low-temperature INTRINSIC inertness to all surface coke-make mechanisms and reduction in feedstream "dropout" coke collection for use in Delayed Coker furnace coils. Intrinsic inertness requires no oxide growth and is piggable.
Targeted Field Performance
i-1300 HT & LTpc (Olefins Production)
8-10% reduction in energy and GHG emissions
1 year energy payback time
Up to 3-5X longer runtimes in ethane
Up to 2+X longer runtimes in naphtha
17kT CO2e/yr reduction per installation
i-1300 LTdc (Delayed Coker / Refinery)
4X decrease in pigging operations
1.5X increase in coil lifetime
OPEX reduction via energy cost
8kt CO2e/yr reduction per installation